Removable / Reusable Valve & Process Covers.

All covers are designed so as they are easily removed and replaced when access is required to the specific equipment.
Fixing can be Industrial Hook & Loop ( this would depend on temperature and environment) or Stainless steel pins with lock wire or stainless steel springs.
Our team of technical consultants have the experience to assist you in the choosing the right materials for you removable/reusable thermal cover application.
Future Thermal takes the customer service to the next level.
We have a team who can measure on site if no drawings are available and install the finished items for you if required.
Pipe & Process Insulation & Cladding (Fixed).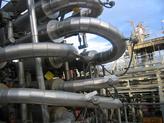 We have experts that have had over 30 years experience design and installation of lagging and cladding of pipework and vessels.
We can install insulation to maintain all temperature requirements depending on whether you're looking to guard against temperature variations within or guard against atmospheric temperature variations.

The correct selection of insulation and cladding material, is critical to the performance of the installed product.
Cladding:    Zincalume  – Colorbond – Aluminium – Stainless Steel – White PVC pre-formed jacketing ( Ideal for food processing plants). Metal Clad – Ranging from 0.55mm to 1.2mm thickness      – Installed in flat steel form or rolled profile form Insulation:  Fibreglass or Rockwool – Pre-formed pipe sections – Blanket or panel board – Plain or lined with aluminium foil – Foam glass machined section
                – Phenolic foam – Polyurethane foam – Armaflex foam rubber.